I can't believe its been FIVE years! It really doesn't feel like that many years ago that Mike and I were married in Southlake on Lake Grapevine with all of our family and friends there to witness our union.  I can still remember all the details from the entire weekend, down to the moments just before I made the 2 minute walk down the aisle arm and arm with my dad. It really was the perfect weekend … the perfect day.  Of course I am biased, but I loved my wedding. I loved every single thing about it and if I could live that day over again, I would in a heart beat.  While it surely doesn't seem like I am five years older than I was in this picture, so much life has happened since it was taken.  Looking back on the proudest and most memorable moments, I realize that during this short time I graduated from college, we bought our first home, I found what I was meant to do and started Love, Me, I've been to Africa, I got my first publication on the cover of a book, just signed for my first studio and most importantly we have had our precious daughter, Mia Grace for nearly three of those precious years.  More than the milestones, though, the very best memories are the ones that make up the tiny details from day to day that have made our everyday life together, extraordinary! (in the words of my dear friend, Lauren)  I really can't imagine spending my life with anyone else in this entire world besides Mike D and I can honestly say that I love him more today than I did as the 22 year old girl who is ridiculously in love in this image.
I always tease Mike about the fact that I knew I would marry him long before he did and I have proof.  It's all written in journals that are packed away from my days as a Wilderness Ranch guide in Colorado. Mike and I met there while we both guided backpacking trips through Young Life.  While most of the gory details are WAY too personal to share here, I was feeling nostalgic and thought I'd pull one out.  Mr. Mike D himself hasn't even ever seen these babies.
On July 9, 2003 I wrote about him for the first time saying …
" I must reveal what is on my heart.  I cannot deny my feelings and how it consumes my thoughts. Mike is constantly on my mind. I absoluely love his heart and everything about him."  This was followed by more revealing, which led to me begging God to take my feelings away.  It wasn't on my life agenda to come to Wilderness Ranch and meet my husband and get married so young.  So, then I got tired of asking God to take feelings away that just kept getting stronger, so then I got really brave and just asked for Him to make it happen. I figured, what the heck, God is a "Big boy", if He can part the Red Sea and knit me together in my mother's womb, well then surely He can put me on Mike's radar 😉   The drama in my heart and mind continued when I got my heart broken for a full three days when Mike left unexpectedly without even saying goodbye, finally followed by his brief return again in which it all began 🙂  Three months later he quit his job in Colorado and moved to Texas, and well, as they say, the rest is history … 6 years of history to be exact! AND, as Mike likes to say, the best six years of my life 😉 (but please don't tell him I admitted this was true!)
But, before you go thinking I was a psycho or something, here is a little excerpt from a letter Mike wrote to me that I found in my inbox before I left for vacation. (he is SO going to kill me. Not even sure he knows I still have this, lol). AND, please keep in mind that we were just "friends" … really. I promise.  No, I swear. We still to this day have arguments over this because it was like he was totally baffled that I was head over heels in love with him and had been for nearly three months.  Hello?  When you write friendly letters like this to a girl, what the heck do you expect????
"Crystal, I wanted to write you and let you know that I think you are beautiful. I heard you say the other night that you wanted your future bfriend to say that to you a lot and I want to make sure that I treat you in a way that says you are beautiful.  It is a longing that I have for you to feel like the beautiful woman of God that you are, but also for you to have confidence in who you are and how you should be treated bc of how I am with you.  I also just wanted to express to you my desire to get to know you. I really haven't gotten the opportunities I've wanted to hear about your life, but I have enjoyed spending time with you an getting to see your heart here.  Thanks for being fun and who you are.  It's the perfect balance between girly and ungirly. I'll miss you for a couple of weeks, but have a great time. Know that I will be thinking of you and praying for you a ton. You're a great friend 🙂 (I added the smiley face)
SEE! Just reading that makes me smile so big on the inside.   Though, looking back, most of it just makes me laugh now, I still cling to this quote from a book, which I can't remember, but I was reading at the time.  It's what still gives me the courage to dream BIG, but more importantly, the courage to boldly ask the big man upstairs how to make those dreams a reality.  The 22 year old girl in this picture's biggest dream at this time was to marry her best friend and start a family … what she didn't know is that God always has a bigger dream for us than we have for ourselves.
"I do not believe God allows surrendered hearts to continue to long for things He will not eventually grant in one way or another."  He is so faithful every single time. This picture is proof 😉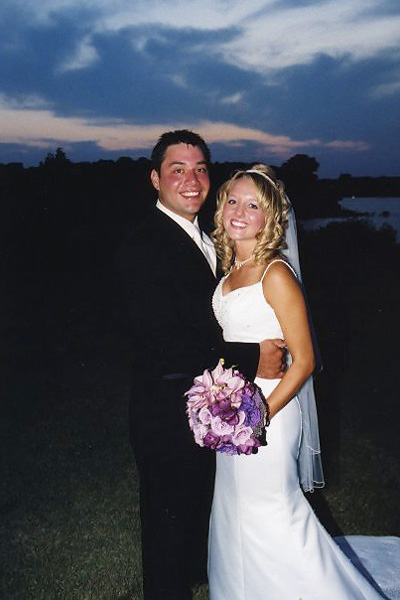 Thanks to the awesome Scott Livermore for this image of us on our wedding day! (back in the days of film 😉 )