OK, first of all, I take no credit for coming up with this amazing idea. Rachel and I have tossed around ideas about how to use Love, Me as a vessel to give of ourselves and help those in need, and while we have some kickin' ideas, there was no way to pull them off this year (but seriously stay tuned as we try to pull them off next year 🙂 ).  And then, the uber talented and witty 
Kristen Kalp
 at Essential Imagery announced this a few days ago on her blog and challenged other photographers to help give back as well. If you all know me, you know I am always up for a big challenge!  Thanks Kristen for your inspiration AND allowing me to blatantly plagiarize [with permission of course 🙂 ]. 
You know someone. You know someone who's experienced a tragedy, is struggling to stay afloat, is raising kids while holding down more than one job, or is volunteering selflessly despite extenuating personal circumstances. You know someone who gives and gives of themselves selflessly despite what may appear to be a hopeless situation, never asking for one thing in return.  That person or family that challenges you to love better, serve better, and just BE better.  
The truth is – custom photography is a luxury, not a necessity.  I know that.  But, another truth is that second to our relationship with the Lord, I would argue that our relationships with those around us are the most important, especially during trying times. Of course, this is why I am so passionate about what I do.  Capturing those memories forever is something that is invaluable to me.  Because I am blessed beyond words to have the gift to do what I do, we want to give that heroic person/family in your life a chance to receive the gift of custom photography. You know someone who can't afford custom photography, but who would cherish it this holiday season. You know someone who sincerely deserves a year-long reminder of their family's strength, love, support, and spirit!
You know someone. I guarantee it.
I want to know who they are, and I want to give them the chance to experience complimentary custom photography – $1000 worth, to be exact.  

We are going to give away a $1000 photography gift that includes a complimentary photography session, slideshow DVD to watch over and over, Session Album with ALL images in 5×7, and $650 print credit to be used for prints for Grandma, wall portraits , or storyboards!  It's in your power to give someone the gift of their life as artwork this holiday season.  Oh, and the best part?  The person that nominates the winner will receive a $250 print credit!
The rules: 
*You cannot nominate yourself, and the person you nominate must sincerely be incapable of purchasing custom photography services. (Being unable to make mortgage payments on a two-million-dollar-vacation-home in Paris does not qualify as sincere financial need.)
*The person you nominate needs to live in North Texas (DFW Metroplex).
*Please e-mail us the full story :  crystal@lovemephotography.com  
(make sure to include a contact email for the nominee)
The winner will be announced on Christmas Eve … so get nominating!  Thanks for opening your heart this holiday season, thus, allowing me to open mine!
Wonder & Blessings.
Crystal and Rachel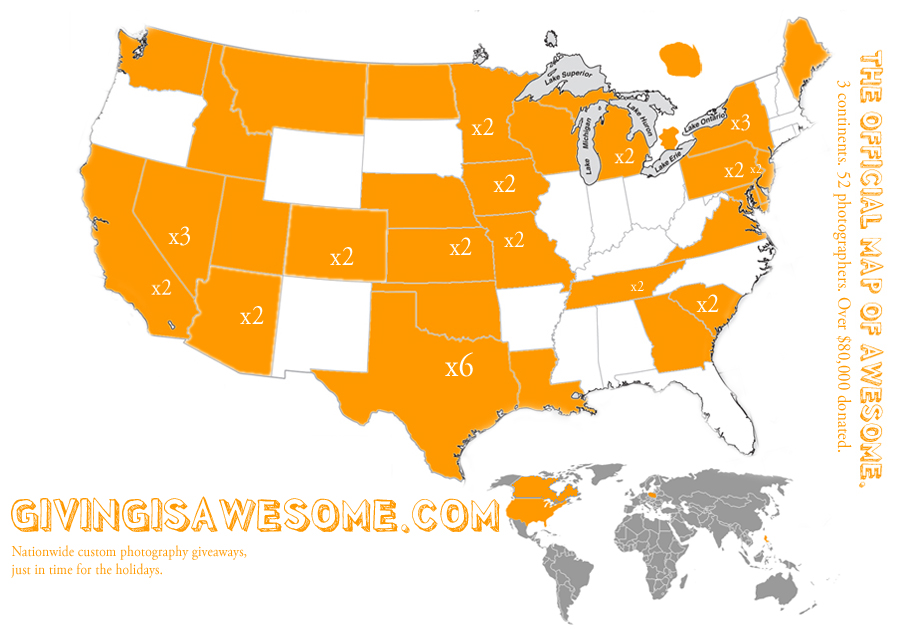 And finally, in case you know of someone outside of North Texas who is deserving, here are some other photographers you can contact who are giving BIG this holiday season! Be sure to check details as pricing and gifts may vary. Also, you can check out the new website (above) dedicated to this giving explosion!  

Matt Nicolosi, of Texas
Kaycee Dean, of Oklahoma
The Selanders, of Iowa/Nebraska
Alice Park Photography, of Georgia
Charlene Chavez, of California
Kimbrali Boyd, of Louisiana
Rachel Logan, of Texas
Surprise Photography, of New York
Lauri Stumph, of Minnesota
Laura Green, of Iowa
Kimberly Ann Photography, of Wisconsin
Photo Art by Suzi, of Michigan
Krista Muskovin, of Michigan
Kelly Holder, of Kansas
Tiffany G, of Las Vegas
Bamboo Photography, of Pennsylvania
Mollie Kendall, of Texas
Marlo Yoshimoto, of California
Brandi DeLisi, of Tennessee
HRG Photo, of Washington
Dini Groner, of New York
April Todd, of South Carolina
Steven Parker, of New York
Christine DeSavino, of New Jersey
Sarah Pettinger, of Missouri
Veronica Reeve, of Utah
Adrienne Griffin, of Nevada
Barbie Schwartz, of Tennessee
Dawn of DLM Photography, of Texas
Tiffany Hix, of Idaho
Adorations Photography, of Texas
Alicia Caine, of Montana
Rebekah Pope, of Tennessee
Lisa Nelson, of North Dakota
Crystal DelaHoz, of Texas
Joell Parkos, of Minnesota
Lyndsey Lewis, of Colorado
Jenny Gironda, of Maine
Jennifer Mullinax, of Kansas
Photography by Angelique, of Missouri
Charmi Pena, of New Jersey
Tami Henry, of South Carolina
Kim Mattina, of Arizona
Christy Stickley, of Colorado
Carie Frabotta, of Arizona
Butch Bernstein, of Maryland
Wendhy Jeffers, of Nevada
Kristen Kalp, of Pennsylvania

International:

Jenna Faye, of Ontario, Canada
Peachyc Photography, of Manila
Josee Caza, of Toronto, Canada
Bev Robison, of Poland