So, LMP mommas, now that Spring Break 2015 is a memory of the past and our calendars all officially say "April" at the top (March, where did you go?), today we're talking about all things Easter!
If you and your family enjoy old movies and haven't seen the MGM classic musical Easter Parade, I highly recommend renting it this week. One of the most famous songs featured in the movie has these lyrics:
"In your Easter bonnet, with all the frills upon it / You'll be the grandest lady in the Easter parade."
I love it! It sets the tone for today's blog post perfectly as it recalls those sweet memories of dressing up for Easter. Of course, Easter Sunday is clearly about so much more than what we wear. Still, there's something about the time-honored tradition of dressing up in our very best frocks-and-frills and parading down Fifth Avenue (ahem…the aisles of our churches) just like Judy Garland.
Today, I still get excited about the "What are you wearing for Easter?" question. And why wouldn't I? I was trained to look forward to this moment from a young age! I can remember the excitement of going shopping for "the dress" with my mom and ultimately choosing pastel or floral dresses adorned with big lace collars, hats with ribbon hanging down the back, white gloves with little pearl buttons (yes, gloves, thank you very much) and absolutely loving every minute! The prep that took place the night before Easter was no small task either, and included pink sponge rollers and a swipe of polish on my nails. And then there were the boys who looked oh-so-uncomfortable in Sunday School thanks to their slicked back hair, jackets, and clip-on bowties. Oh, the joy of it all! (And let's NOT talk about how my brother and I looked like we were dressed as characters from the It's a Small World ride at Disney World… or the fact that we look less-than-thrilled about not being barefoot…)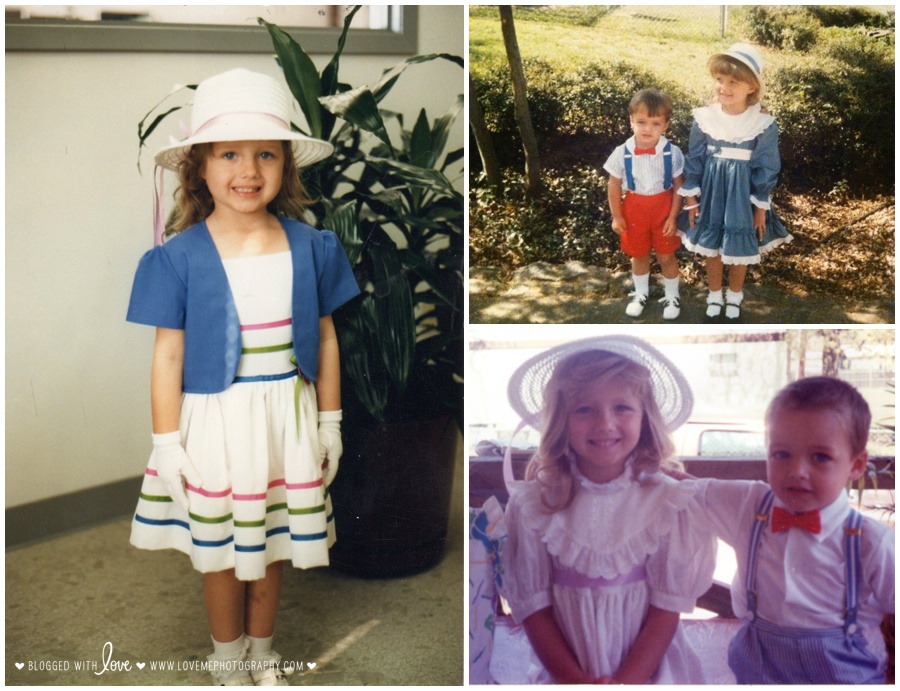 All of this—the sweet moments from my childhood and the new memories I'll make in just a few short days with my girls—is so special to me. Which makes me wonder…do you feel the same way, LMP mommas? Did you take your daughter or son (bless his heart) shopping for that perfectly cute Easter outfit and then take a photograph or twenty afterward? Or maybe you spent hours dyeing and hiding the most gorgeous Easter eggs imaginable, and then proceeded to forget about them until the "I haven't taken out the garbage in months" scent kicked in?
Whatever your memories are, I want to hear all about them—and being a photographer, naturally I want to see photos as well! Please join me in the LMP Easter Memories campaign by posting photos to your Facebook, Instagram, and Twitter accounts along with a sweet memory or two. Be sure to include the hashtag #LMPEasterMemories and encourage other mommas to "hop" in on our conversation over the next few days. This should be FUN!