Nope.  They are married … and have been for two years.  Its uncommon for couples to get photos taken after getting married, but I think it is SO important (and not just because I am a photographer).  I think most people have all these pictures of their engagement, then the wedding and then they wait until they have a baby before getting pictures again.  For most people there are at least a few years in between that go undocumented "together".  And those are some fun years!  I wish Mike and I had done this too (I'm already working him for our 5 year anniversary next year 🙂 ) Let's face it, there is usually one person in the marriage that enjoys snapping pics while on vacation, etc.  Sometimes, its the girl and sometimes its the guy, but whomever it is, they are usually absent in all the photos (or you try to take those awkward someone in the photo takes the picture by holding the camera at arms length where your faces are all smooched together and you have at least eight chins between the two of you)  Mostly, you just end up with lots and lots of "scenery" type snapshots or pics with your significant other strategically placed in the lower right hand corner (you are obeying the rule of thirds!) looking less than pleased because they are sick of being in pictures by themselves in front of mountains, sunsets, and statues.  
So, follow Callie and Matt's lead, give me a call 🙂 and go get some pictures taken with each other, not of each other.  If you are reluctant, give Matt a call, and I'm sure he'll tell you it was painless and actually kind of fun (and I'm sure it scored him some HUGE brownie points with the wife!)
Speaking of Callie and Matt, can I just say …  I LOVE LOVE LOVE you guys!  Seriously, this was a favorite session and I loved photographing them as a couple.  I will admit I was a little nervous, not knowing if the whole googley eyed, we are in love thing would still be there …  I mean, it has been TWO whole years!  Seriously though, I was unsure because I remembered how I was when Mike and I got engagement photos (me always cracking up at his not so funny jokes, sorry honey) and I think we would need a little more direction now.  But, it was so relaxed and fun and they were complete naturals. I felt like I was just following along on a date night. And, it is so obvious they are very much still in love.  
Matt called me up and scheduled a session with me as a surprise for Callie (insert awwww, how sweet here).  Callie had apparently hinted by showing him my website more than I'm sure he cared to see.  I think its such sweet and thoughtful gift and one I hope they will cherish for many years to come.  
Anyway, here are a few of my favorites.  Enjoy!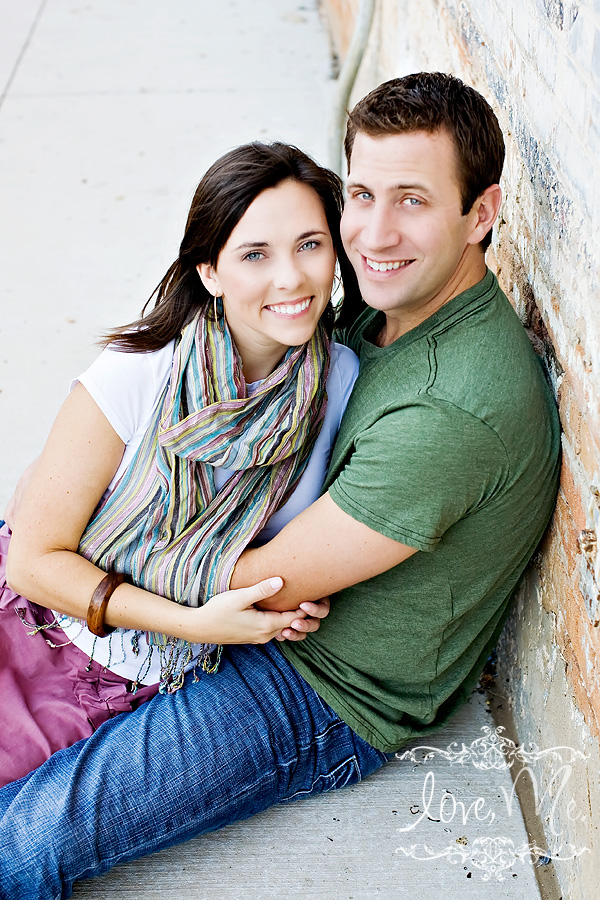 I'm so glad we decided to go to a new location and keep shooting until the sun went down (literally).  I got to play with my new lens and dof (depth of field) and I love the results.  
Isn't this kiss so cute 🙂