**2018 UPDATE** In addition to totally FREE résumé + cover letter templates, I now offer completely custom Recruitment Information Packets! Packets are available in 24 unique + chic designs and include personalized letterhead, mailing + address labels, stickers, and more! Shop all products at SororityPackets.com and be sure to check out our brand NEW BLOG which is stocked with tons(ss) of information about the sorority recruitment process.
Last but not least, we also recently launched our new eBook, Everything You Need to Know About Sorority Recruitment (seriously…everything!). I hope this guide is everything you need to feel physically, mentally, AND emotionally prepared for the sorority recruitment process. Happy rushing!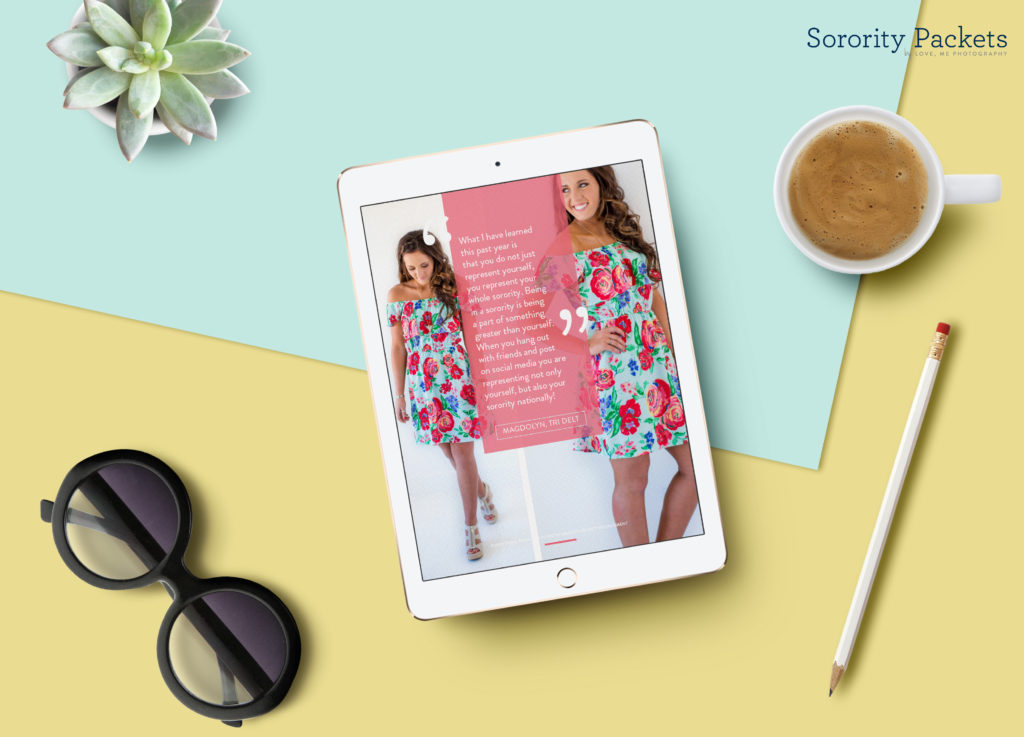 RUSH 101: THE RECRUITMENT INFORMATION PACKET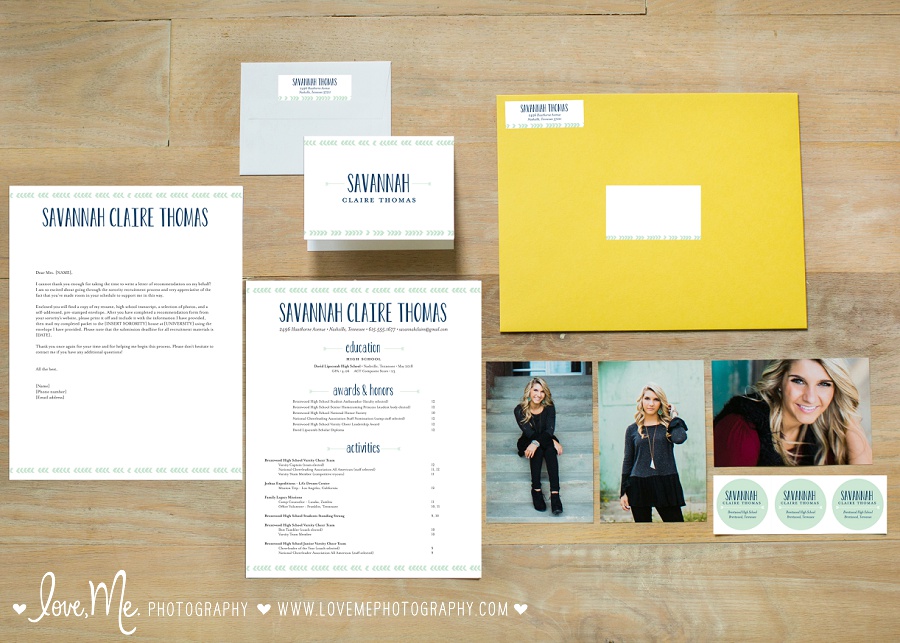 I was talking to one of my cute clients the other day, and she said something that really caught me off guard: "I'm starting to work on my sorority recruitment packet this month."
Wait, what? I thought. That can't be right! I know this makes me sound completely old, but "back in the day," I'm pretty sure that girls sent off their transcripts and résumés during the SUMMER and that recruitment began in the fall. Now, it seems like most colleges host events for freshman during the summer months, which means that the "unofficial" recruitment process begins much earlier.
Other things have changed, too. Instead of asking mom to take a picture in the backyard (not that I'm speaking from personal experience or anything), my senior girls frequently bring special outfits to their portrait sessions so that they have the option of including professional prints in their recruitment packets. And instead of mailing a basic cover letter along with SAT scores and a transcript, I'm seeing girls create branded notebooks, custom sticker labels, logo-embellished stationery…the works!
Quick note: Don't panic if you haven't started thinking in the direction of sorority recruitment yet, and don't feel like you have to design a couture personal logo, either! Honest information always trumps flashy presentation. That being said, creating a unique look for your sorority recruitment packet IS a fun way to show off your personality and set your application apart. Bottom line: tackle this recruitment task (and the entire rush process!) in whatever way feels most like YOU.
Let's take a look at the basic information you'll need to include in your packet. After you've read through our list of recruitment essentials, be sure to download our FREE cover letter template! Switch out the example monogram with your own initials, swap out the colors until you find a look that fits your style, and voila! Your packet is ready to go and sure to shine!
WHAT IS A RECRUITMENT PACKET?
A Recruitment Information Packet, also known as a recommendation packet or a sorority packet, is a compilation of all the information an alumna of a sorority needs in order to write you a letter of recommendation. You will need to create a separate recruitment packet for every single sorority on the college campus you will be attending. 
WHO GETS YOUR RECRUITMENT PACKET?
You should send a recruitment packet to a local alumna of every single sorority housed on your college campus. If you don't know a former Theta, Kappa, or Delta Gamma personally, don't worry—your local Panhellenic organization should be able to provide you with a list of women to contact.
HOW DO YOU SEND A RECRUITMENT PACKET?
Call and ask each alumna on your list if she would be willing to write you a letter of recommendation. After she agrees (because really, who WOULDN'T want to write a rec letter for you?), set a date and time for you to drop off your packet at her home. (Alternately, you can mail the packet to her home address.) After writing your letter of recommendation, each alumna will mail your completed recruitment packet to the proper sorority house on your behalf.
*RECRUITMENT PACKET ESSENTIALS:
Large envelopes: 9 × 11.5 inch envelopes should work perfectly. You will need to include an envelope that has been pre-stamped and pre-addressed to the appropriate sorority on your campus with every packet you deliver. The alumna will use this envelope to send your packet to the sorority after completing and inserting a recommendation. If you are mailing your packets to alumnae, you will need to place your pre-addressed/stamped envelope inside of an even larger manila or booklet-sized envelope for mailing purposes. More info on that here.
Postage: You are responsible for paying the postage for your recruitment packets, not the women writing your letters of recommendation. Make sure to weigh your packets in advance so that the proper amount of postage is included on each envelope. 
Label stickers: Print your return address and the address of each sorority house on label stickers for a uniform look. Be sure to research the name of each sorority's VP of Membership and address your packet directly to her—she's in charge of the entire recruitment process, and personal touches really do make a difference! 
1 copy of your high school transcript 
1 copy of your ACT and/or SAT scores 
Cover letter: Your cover letter should be addressed to the alumna writing a recommendation on your behalf, NOT the sorority house your packet will be mailed to. If your letter-writer doesn't know you personally, this is your chance to introduce yourself and tell her all about why you're looking forward to attending college, joining a sorority, and getting involved on campus! 
Three pictures: Most sororities will ask for a variety of shots—at least one headshot, a full body pose, and a three-quarter view (learn more about the types of photographs to include in your Recruitment Information Packet here). It's a great idea to affix a label to the back of each photo that includes your name, hometown, and high school—adorable personal stickers that can be used for this purpose are included in our Recruitment Information Packets, for the record!
RIF/Letter of Support: Alumnae will take care of adding these docs to your packets prior to forwarding on to the sorority houses.
OPTIONAL ITEMS:
Presentation folders: Folders are an excellent choice for those of you who will be dropping off your packets in person. If you're planning on ordering a set of our Pocket Folders, you also have the option to add a personalized folder sticker to give your packets a polished, branded look!
Additional copies of your résumé, transcript, and/or SAT and ACT scores: Including two copies of these items isn't 100% necessary, but the practice is sometimes suggested by alumnae Panhellenics. The thought is that one copy of each item will be used exclusively by the alumna writing your letter of recommendation, and the other copy will be sent on to the sorority house. Think of this as a preventative measure taken against finger marks and accidental coffee spills!
*Be sure to check each sorority's website and your local Alumnae Panhellenic website for specific requirements!
Congrats! You are now equipped with our recruitment packet essentials list and, if you click the button above, a super cute cover letter template! You'll find the next installment of our Rush 101 series right here: How to format a recruitment résumé.
xoxo,
Crystal

PS: Just wanted you to know that you're MY rush crush. Every single one of you!